Midterm Elections
Thursday, October 20, 2022
Since World War II began, there have been 20 Midterm Elections (MTE) years in the United States. In every time period from the MTE to June 30th of the subsequent year, the market has been higher. A perfect 20/20. The bulk (13) have generated double digit results. So, what does that tell us? Well, the first is that the market hates uncertainty. Once clarity is provided, regardless of the outcome, the market responds accordingly and historically that response has been positive. Second, much like oil and water, your political views and investment views should never overlap. Lastly, past performance is not indicative of future results.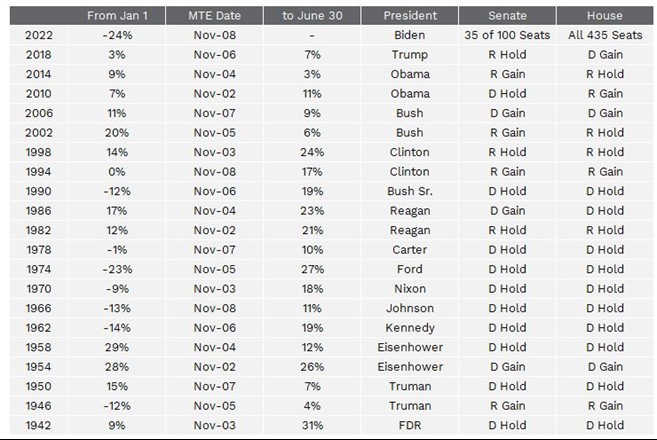 While it's tempting to speculate which party or parties will control the House and Senate after the 2022 midterm elections, the midterm elections shouldn't have a significant impact on your investment portfolio or the investment strategy developed in partnership with your financial professional. U.S. fiscal policy may change after the 2022 midterms, but it's economic fundamentals, not election results, that historically play the greatest role in equity market performance both before and after midterm elections. The chart below provides a basic illustration for the possible outcomes and likely policy result.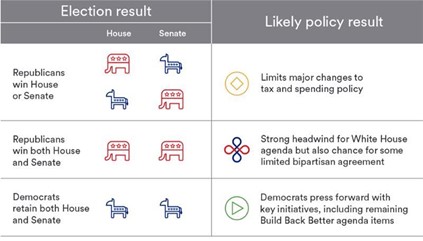 ---
Disclosures
INVESTMENT AND INSURANCE PRODUCTS ARE | NOT FDIC Insured | NOT bank guaranteed | MAY lose value
Riverview Trust Company investments are not insured or guaranteed by the Bank, the Federal Deposit Insurance Corporation or any other government agency. Non-deposit products are subject to investment risks, including possible loss of principal. Past performance does not indicate future results. Asset allocation does not assure or guarantee better performance and cannot eliminate the risk of investment losses.
Riverview Trust Company does not provide tax or legal advice. The information presented here is not specific to any individual's personal circumstances. To the extent that this material concerns tax matters, it is not intended or written to be used, and cannot be used, by a taxpayer for the purpose of avoiding penalties that may be imposed by law. Each taxpayer should seek independent advice from a tax professional based on his or her individual circumstances.
These materials are provided for general information and educational purposes based upon publicly available information from sources believed to be reliable—we cannot assure the accuracy or completeness of these materials. The information in these materials may change at any time and without notice.