HOW SHOULD WE THINK ABOUT FIXED INCOME?
Every time something crazy happens in the world, investors check to see how it affected the stock market. The Dow and the S&P 500 flutter around like dry leaves in the wind, their prices reacting minute by minute to every news item, forecast or tweet. Nervousness about what might happen in the future seems to override solid data in the present.
Bonds, on the other hand, have a different relationship to world events. Because their values are driven by relative worldwide interest rates, bonds are sensitive to actual economic data and developments in ways that stocks are not. This article will discuss the current state of the economy and global interest rates, the outlook for recession, and the impact that those factors have on an investor's decisions about how to use bonds in his or her portfolio.
The Economy and Interest Rates
The two biggest developments in the bond market over the last 12 months have been the complete reversal in the direction of interest rates (in the United States the Fed has gone from steadily tightening to steadily cutting our overnight policy rate – the "Fed Funds" rate), along with the unprecedented proliferation of negative interest rates throughout the rest of the developed world. In looking at interest rates in 19 developed countries, only five currently have positive overnight policy rates (the equivalent of our "Fed Funds Rate"), and only seven have positive rates on 15 year bonds.
We recently read that a Danish mortgage lender, Jyske Bank, was offering a fixed rate mortgage loan with a negative interest rate of -.05. In other words, each month when you make your mortgage payment to them, your mortgage balance goes down by more than the amount of your payment (before you book your flight, though, our understanding is that it's only available to Danes). The bank is marketing the home loan as a complement to taking out a car loan with the same bank with a positive interest rate. The two offset each other, and with the fees the bank charges, it comes out ahead.
Still, that's insane!
These very low/negative rates are the result of (and in the case of overnight policy rates, a response to) weak economic growth worldwide. During the eight-year period from 2011-18, world GDP (gross domestic product) growth was mostly below 3% per year. For comparison, during the fifty years before that, a growth rate that low occurred only 30% of the time. A couple of years ago there were signs that global synchronized growth might take hold, and that led many to believe that central banks would respond by (finally) raising rates. But by 2019, that growth had sputtered, led by slowdowns in South Korea and Taiwan, which happen to be two very trade-sensitive economies.
Indeed, trade turbulence most certainly has contributed to the slump in global growth. For the past two years, the current administration's aggressive approach to trade negotiations has led to greater tensions, threats and finally actual tariffs. Meanwhile, during those same two years, domestic consumer confidence was high, unemployment was at a fifty-year low and productivity seemed about to increase. Further, bond yields and measures of inflation were on the rise. As a result of that positive data, the Fed decided to raise short term rates in 2018, even though the trade storm was brewing. The stock market, concerned about growing trade tensions, disagreed with the Fed's outlook of continued growth. By the end of 2018, U.S. stocks had decreased for the year by over five percent, while international developed and emerging markets each dropped over fourteen percent. The Fed, in turn, responded by halting the rate increases and reversed course, cutting rates twice (so far) in 2019. All of which leads us to where we are now.
The U.S. Economy: A Snapshot
When assessing data to determine the health of an economy, it's important to decide what kind of indicator you're looking at. There are three types: leading indicators (data that presents signs of things to come); coincident indicators (data that tells you what's happening now) and lagging indicators (data that tells you what's already happened). Gross domestic product ("GDP") is the biggest lagging indicator; it drops after the economy already has slumped. Housing starts, on the other hand, are a leading indicator: because houses have to be built well ahead of when they're sold, if they aren't being built it means that the builders are pessimistic about the future. So leading indicators are the most useful in helping decide where the economy is headed.
Two of the most important leading indicators are consumer sentiment and expectations (because consumer consumption makes up 68% of the U.S. GDP) and the Index of Leading Economic Indicators ("LEI"), because it is a composite of several different data sets.
Currently, consumer sentiment is good, but not as good as it was earlier in the year. Hourly earnings were up in August and unemployment is still low (but employment grew at a lower level than expected in August). On the other hand, consumer sentiment fell to a seven-month low, driven by tariff concerns. In general, consumer expectations are declining, even though they are still historically strong.
Similarly, the LEI was up in July, and the six-month average was positive. The data here suggests continued expansion (albeit at a modest pace). Specific areas, particularly manufacturing, are showing weakness from very weak overseas demand (24% of U.S. factories report falling export orders, the largest percentage in a decade). Service industries are still strong, but they often lag the manufacturing sector by three to six months.
All of which means that the probability of recession is growing, even as the U.S. economy still shows areas with strong data. The biggest risk comes from the trade war and weakness overseas. What does this turbulent outlook mean for the performance of bonds? To answer that question, we need to take a brief detour into the basics of bonds.
Some Bond Basics
In order to understand bonds' movements in response to these recent developments, a brief description of how bonds work might be helpful. In general, bonds are promises by a governmental entity or corporation to pay a fixed amount (the "coupon rate," expressed as a percentage of the face amount) over a fixed period of time, at the end of which the bond issuer pays back the face amount. So, for example, if you bought a $100,000 10-year Treasury bond with a 2% coupon, you'd pay the U.S. Treasury $100,000 on day one, you'd receive $2,000 each year for ten years, and at the end of year ten, the Treasury would pay you back your $100,000 (when it reaches "maturity"). Seems simple.
The complication comes with the fact that most investors don't buy bonds at issuance, but rather they buy (and perhaps sell) at some point in the middle of the bond's term. And between the time the bond is issued and the time when it is later bought or sold, interest rates can change the bond's value. For instance, let's say you bought your ten-year, two percent bond at its face value. If interest rates went up to three percent and you wanted to sell your bond, you would have to sell it at less than face value (at a "discount") because a potential buyer could get a higher yield elsewhere. Conversely, if interest rates went down after you bought your bond, you could sell it for more than its face value (at a "premium").
This leads to perhaps the most important point about bonds: as interest rates, and with it a bond's yield, go up, bond prices go down. (As yields go up, prices go down. Just repeat it as a mantra.) And of course the opposite is true. So the next time you read in The Wall Street Journal that bond yields went up and that strikes you as a good thing, just remember that the value of your bond portfolio just dropped a little.
Other factors affect the value and yield of a bond. Credit quality is very important: the US government doesn't have to pay as much in interest as does a start-up corporation on its bonds, because the likelihood of getting paid back by the United States is always higher than getting paid back by a corporation. Further, a drop in a corporation's credit rating can cause the value of its bonds to drop as well (but, as noted above, that makes its yield go up, which might make it more attractive to yield-seeking investors who can accept a bit more risk).
Time to maturity is another important factor. The longer you have to wait for your bond to reach maturity and therefore to get your money back, the more risk you're bearing, and therefore the higher the yield you should receive. That's why a thirty-year bond should have a higher interest rate at issuance than a 10-year bond of equal credit quality. In fact, this change in yield over time creates what's known as the "yield curve." As the time to maturity gets longer along the horizontal axis, the interest rate the bond should pay increases along the vertical axis, as shown below:
At least, that's the way it should look under normal circumstances. Remember, though, that the Fed, when it sets interest rates, only controls the shortest end of the yield curve. The rest of the interest rates are decided by market forces. If investors disagree with the Fed's outlook, market forces can drive longer-term rates below short-term rates. As a result, the curve "inverts" from its usual position, and might look like this: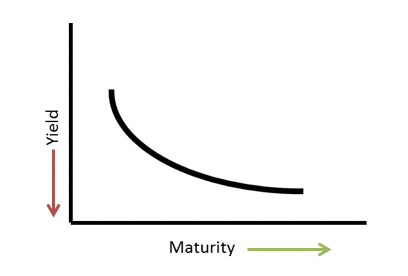 This creates the bizarre result that shorter term bonds pay a higher yield than longer term bonds. This often happens after the Fed has raised interest rates to combat inflation, and investors believe that the Fed may have gone too far. Investors instead believe that interest rates should be lower. If the Fed is too aggressive in raising overnight lending rates, economic growth can stall. This is why inverted yield curves are seen as sign that recession could be coming. It's also why economists often say that economic expansions don't die of old age; they're killed by the Fed.
Bond Portfolio Implications
OK, so now we know that interest rates worldwide are ridiculously low (and even negative), that the U.S. economy is still currently doing OK but is starting to show some cracks, and trade wars and weak overseas performance are pulling down the world economy. Further, because our low rates are higher than other countries', the U.S. dollar and Treasuries are a safe haven for worldwide investment (meaning the dollar is currently strong), despite the temporary inversion of the U.S. yield curve. Finally, all these factors seem to point to the Fed lowering rates at least one more time this year.
What do these factors mean for bond portfolio performance? While we're not in the business of making predictions, we think some expectations are reasonable.
First, with a strong dollar and the likelihood of the Fed lowering rates again, we should expect that cash will yield less than it does today, as will the yields on "safe" bonds like Treasuries.
Second, keep an eye on corporate bonds. We mentioned that credit quality is a factor in bond pricing. This quality is usually established by credit ratings agencies: bonds above a set rating (typically BBB or better) are considered "investment grade." Many corporations have taken advantage of the low interest rate environment of the last decade to increase borrowing (corporate borrowing has risen above $6 trillion). If a recession hits, highly leveraged corporations may find it harder to pay their debts, which could lead to a lowering of their credit ratings. Many bond mutual funds and ETFs are required to hold investment grade bonds only; this means they would have to sell their positions in newly downgraded bonds, lowering the values of those bonds, perhaps substantially.
Third, the Bloomberg Barclays U.S. Aggregate, perhaps the most commonly used bond index, has a historically low yield and a heightened sensitivity to interest rate fluctuations.
Fourth, a fifty-year historical study of the relationship between bond yields and subsequent bond returns implies that, given that the current low yields are likely to stay low for quite some time, we should expect low returns from bonds over the next five years. These four factors together have overturned traditional expectations for bonds. Historically, bonds have provided three benefits to a portfolio: (1) income yield; (2) capital preservation; and (3) diversification from stocks. In this environment, it seems harder than ever to achieve all three goals simultaneously. For instance, if you seek income yield in this low-rate environment, you might be tempted by corporate bonds at the lower end of the "investment grade" spectrum to increase your yield. But an economic slowdown could result in a bond downgrade and a loss of value, which negates the higher yield that you bought the bond for in the first place. Conversely, if you are seeking safety, you will have a hard time generating adequate bond yield.
So, in this environment, be clear about your objectives for the fixed income portion of your portfolio, and expect to make trade-offs among these objectives. You may have to choose between safety and yield, or settle for watered-down versions of both. You may not get a lot of diversification if and when recession hits. Talk to your investment advisor about the role that fixed income plays in your portfolio, and how that role might be changing. Knowing more precisely what you hope to achieve allows you to gauge more effectively whether you're achieving it.