SOME PLANNING BASICS WITH LIFE INSURANCE
Life insurance. Just saying the words makes people feel uneasy, either because it forces them to confront their own mortality, or because it makes them feel like they're about to be "sold" something. This discomfort, in part, is what leads many people to be uninsured or underinsured.
Life insurance is a real need. Seventy percent of U.S. households with children under 18 would have trouble meeting everyday living expenses within a few months if a primary wage earner were to die today; further, 40 percent say they would immediately have trouble meeting everyday living expenses.
Perceptions about that need vary, though. For instance, a new study shows that 84 percent of Americans say that most people need life insurance. However, only 68 percent say they personally need it, and only 59 percent own some form of it. Even among those with life insurance, about 20 percent say that they do not have enough.
One of the main reasons people avoid having the insurance discussion is perceived cost. The same study says that 83 percent of consumers don't purchase more life insurance because it's too expensive. However, consumers believe life insurance costs nearly 3 times the actual price: most Americans believe a 20-year, $250,000 level term life policy for a healthy 30-year-old costs $400 annually; in fact, it would actually cost around $150. The overestimation is even worse among the young; 44% of Millennials overestimate the cost at five times the actual amount.
Another reason for avoiding insurance is the complexity. There are many different types of insurance products, each developed as the needs of the clients and the demands of the market have changed. Understanding how any one of them works is hard enough; choosing between them can seem difficult if not impossible at times.
This article will try to explain how life insurance products work and which products are most useful in a given situation.
I. Insurance Product Types: Term vs. Permanent
Although there are many different types of life insurance products, the subject can be divided into two broad categories: term (which is used to cover a particular period of time) and permanent (which covers the insured's entire lifetime).
a. Term Insurance
In its purest form, life insurance is simply the insurance company betting on the insured person surviving for one year. The company decides each year how much it must be paid (the "premium") to assume the risk that the insured will die in that year and that the company will then have to pay the stated death benefit to the insured's beneficiaries. The premium amount is based on factors like the insured's age, health and habits (like smoking or skydiving). As you might imagine, the older an insured becomes, the higher the premium. This increased premium is directly related to the increased odds of the insured dying as they age.
This kind of "pure" insurance is called "term insurance." Originally, the term was one year at a time, with the premium gradually increasing each year. It's more common now to have 10- or 20-year "level" term, for which the premium cost is averaged over a chosen period of time. For example, instead of the premium starting at $500 in year one and growing to $1,500 in year ten, the premium might be averaged out to $1,000 per year for each of the ten years. The policy doesn't automatically lapse after the term expires. Rather, the premium at the end of the chosen term increases annually. Eventually, the term policy becomes more and more costly as the insured gets older, and often the policy owner will stop paying the premiums. As a result, the majority of term insurance policies simply lapse at some point, with no residual insurance or cash value to the insured. As its name implies, term insurance is most useful when the liquidity need is temporary (for instance, to replace salary for a younger couple in case one of them dies unexpectedly, but with the expectation that as the couple gets older, saves and reduces household debt, the insurance will become a less important part of their estate planning).
b. Permanent Life
Some insurance contracts don't end after a set term. In many situations, "permanent" insurance is more appropriate than term insurance. As the name suggests, a permanent policy does not automatically expire after a set term of years; rather it normally is held throughout the insured's lifetime (as long as he or she keeps paying the premium). With these "whole life" products, the premiums consist of a term insurance component (death benefit) and an investment component (cash value). When the insured dies, the "death benefit" is a combination of the cash value component plus term insurance value. Over time, the cash value within the whole life policy increases and effectively reduces the term insurance component. In this way the investment component helps to keep the premium on whole life policies stable over time. The insurance company invests the cash value component of the premium in very safe (state regulated) investments, like US Treasuries. If the insured lives long enough, the cash value in the policy increases to the point where it equals the death benefit, at which time the insurance company simply pays out the cash value to the insured. This normally happens on or before age 100. The owner of the policy can withdraw the cash value in the policy at any time or can borrow against it; however, if the policy has too little cash, it can lapse.
A more recent development in the permanent insurance world is "guaranteed no-lapse" insurance, which has a premium higher than term but lower than whole life, and which has no cash value built up. In addition to whole life and guaranteed no-lapse policies, there are a myriad of other permanent insurance choices.
c. Long-Term Care Hybrids.
As we live longer lives, the cost of health care later in life is becoming an ever-greater concern. As many as 70% of Americans will require long term care at some point in their lives, and current costs for long term care facilities can run anywhere between $70,000 – $150,000 annually in a semi-private or private nursing home. Meanwhile, traditional long-term care insurance policies, which pay for long-term care if the insured loses the ability to manage certain aspects of daily living, can be prohibitively expensive.
Recently, some long-term care coverage alternatives have been developed by the insurance industry. These hybrid alternatives do not provide comprehensive coverage the way traditional long-term care insurance does, but they can provide at least some benefit in the event it is needed. These include annuities with long-term care benefits, and life insurance with long-term care riders (a "rider" is an additional feature which increases the premium cost and which allows access to the cash value in the policy for long-term care needs). A discussion of these alternatives is beyond the scope of this article, and the products themselves are continually refined. An experienced life insurance advisor is critical to explaining the options available.
II. Choosing Among These Products.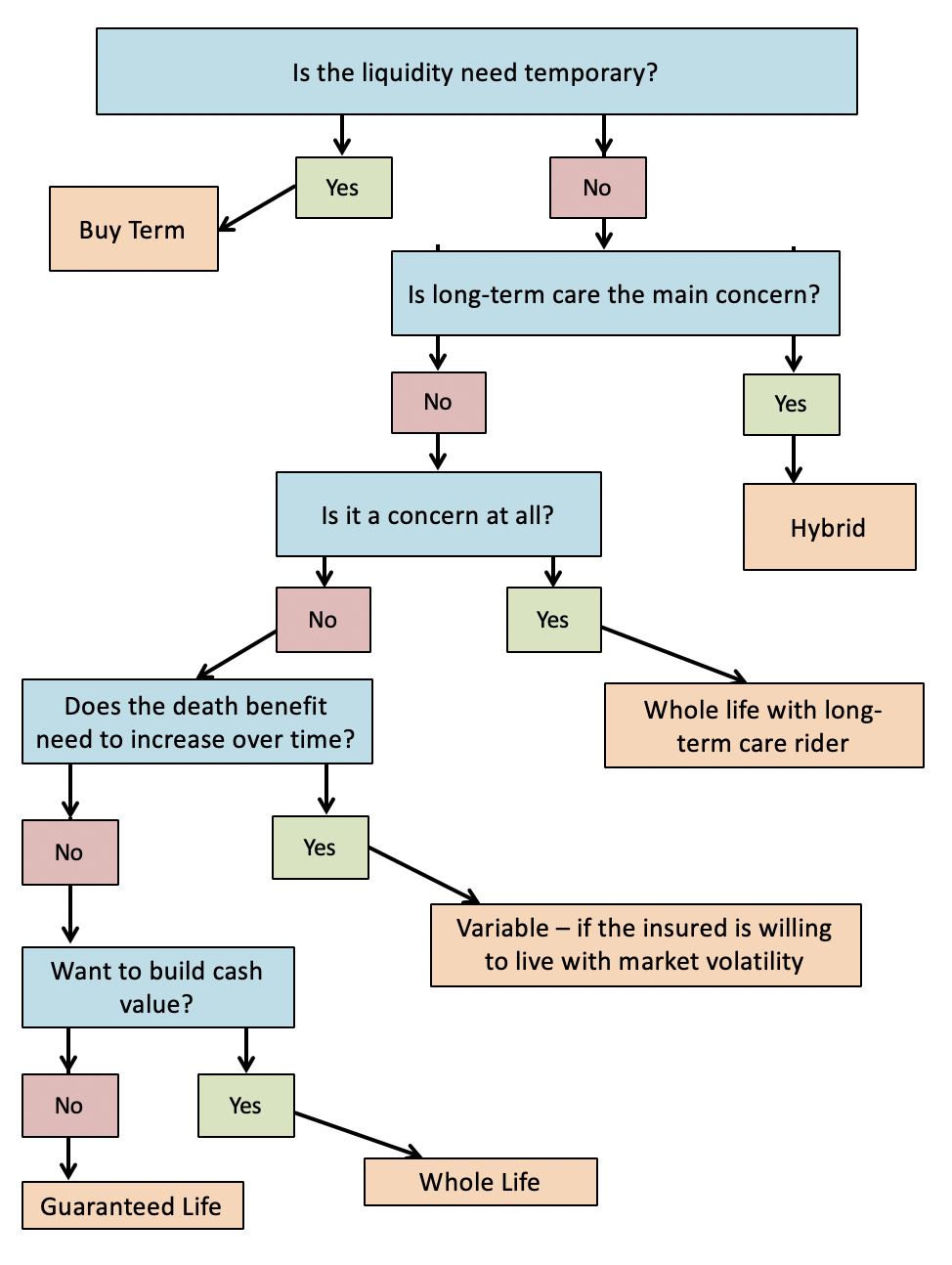 As this brief introduction to insurance has shown, planning with insurance is complicated. Although the only way to make an informed decision about product selection is with the advice of an experienced life insurance advisor, we've attached a flow chart that can help you begin the process.
Most importantly, insurance should be chosen by appropriateness and need, not price. As we've discussed, term insurance is less expensive than whole life, but the chances of a term product eventually becoming unaffordable is high. Additionally, long-term care riders are generally only available with the more recent types of hybrid, cash value policies.
If you would like to discuss further the potential uses you might have for life insurance, please don't hesitate to contact us.